At GenBinders.com, you can customize your very own genealogy binder to hold all of your family records and memories in one place. These binders are not only functional, but also make a great addition to any home library or office.
One of the best things about custom printed genealogy binders is that they make great gifts for genealogists or anyone interested in preserving their family history. They also make thoughtful wedding gifts, as they provide a special place for a new couple to document and share their family histories. And of course, they make great gifts for grandparents and other family members to share their memories and stories with the next generation.
But the benefits of a genealogy binder don't stop there. These binders can become treasured family heirlooms, passed down from generation to generation. Imagine the memories and stories that will be shared as family members flip through the pages filled with old photos, pedigree charts, and other family records.
So next time you're looking for the perfect gift for the genealogist in your life, or if you're interested in preserving your own family history, consider a custom printed genealogy binder from GenBinders.com. It will not only be a practical gift that will be used time and time again, but it will also become a treasured keepsake that will be loved for years to come.

I've enjoyed making "Family Tree" designs for ancestry binders since 2012 because I really love trees. These binders are great for holding everything from pictures and news clippings to pedigree charts. For many people, ancestry research is a fascinating and fulfilling way to learn more about oneself and where you came from. However, genealogical research usually results in piles upon piles of documents, letters, photographs, and transcripts, and keeping them organized can be difficult. A binder is a great way to keep records organized and accessible. One suggestion is to sort your documents into files according to the relatives they pertain to, then group them by generation or alphabetize them by surname.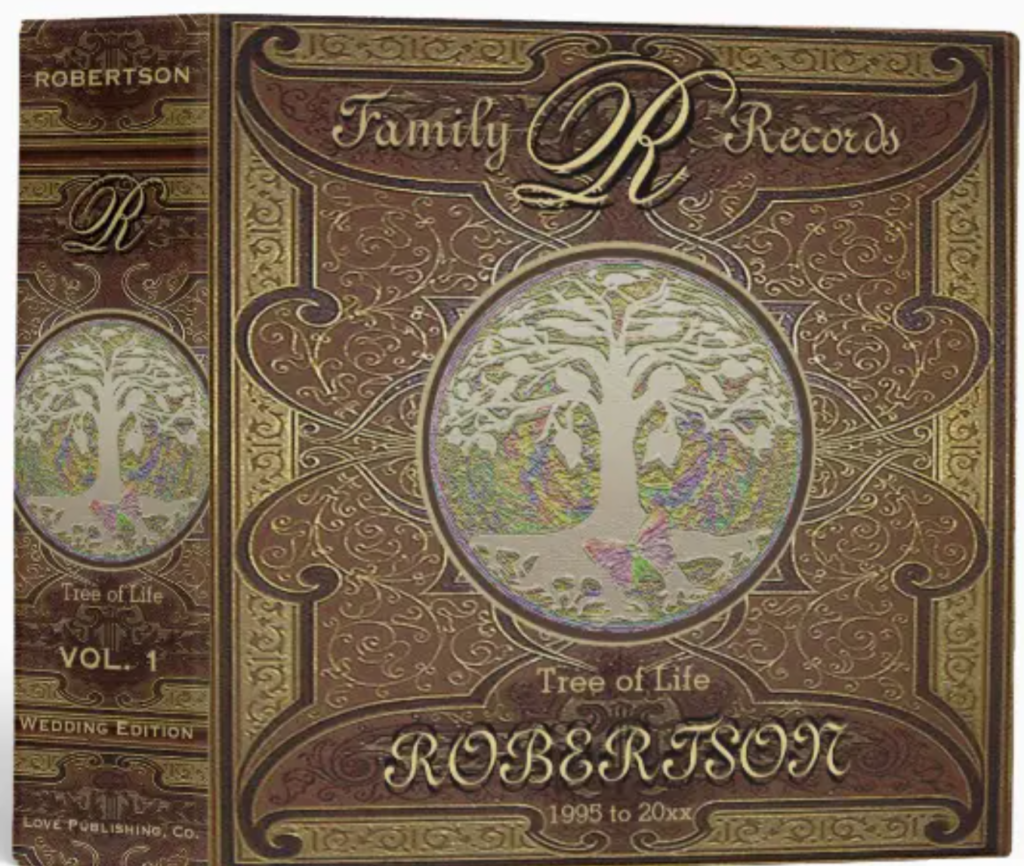 In all, I think I've created about 100 different genealogy binders and I think as far as products and gifts go, they are some of my most requested items. These sturdy and high quality Avery binders are printed in full color. Genealogy binders make great gifts for genealogists, Holidays, wedding, reunions, grandparents and more! I've also made some pedigree charts with a vintage look for some of the binders. However, I recommend using an archival type of plastic sheet protector for photos and very old items.

GENBINDERS: Below you will find some of the binders that I have made. I also registered the domain name GenBinders.com so they are easy to find.
FAMILY HISTORY PAPER: Here are some of the different binder and filler papers I've designed for the binders I've made. They are easy to customize and fill in.
One of my most popular genealogy binders is a gold tree of life artwork that I did. It is great for family tree research, newspaper clippings, family photos and other family records. However, the generic look with no writing on the template makes it also suitable for school, scrapbooking, household records, documents, journaling and more.
I also make a genealogy binder with the same artwork in blue.
The Family Tree Genealogy Binder below I did was based on a tree at my house. About 25 years ago it was quite small. It's been fun watching it grow over the years and is a reminder to me that not only is it getting older, but, I must be too. Although, my grown kids are also a reminder of how fast life can pass. Therefore, always remember to enjoy each day, and, eachother. Life is precious.
If you are interested in a simpler design for a Family Tree Binder. I made this sweet and simple one. It looks sort of vintage and rustic. I like these colors. For me they are soothing and comforting.
Thank you for your purchase which allows me to keep on creating new and different genealogy binders and other family history gifts. Have a wonderful day.
Amelia Carrie